<![if !vml]>
<![endif]>
---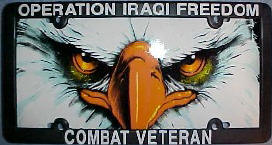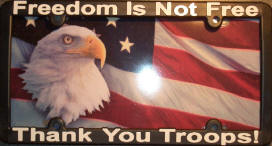 ---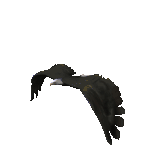 Our Veteran License Frames are on cars and trucks in all 50 states! We are the world's largest provider of Specialty & Custom Veteran Vehicle License Frames... Thanks to You!
---
---
Our #1 Product is Great Service! Our #2 Product is Custom and Specialty Military Veteran License Frames. We provide these products with great pride for our fellow veterans. We think you will find that this is more of a passion than a business... order and you'll see why. What makes this online business different from most others? You don't have to pay until you receive the frames and are satisfied! That's just the way we do business with our fellow veterans. Welcome Home!
---
Are you still advertising for your car dealer? Why not put something around your plate that is meaningful to you? With just a few key stokes, you can have a custom frame on its way to your doorstep to arrive within 3 to 5 days!
Click the thumbnails images below to enlarge! These are a few our frames that American Veterans are proudly displaying in different states throughout the country!

Yes... we make CYCLE Frames also!
---
Recent Compliments
Dear Dave & Robert: Received the frames Saturday. Thanks for the quick response, they look great. Hope you have a nice holiday. Sincerely, Bill Sorenson
NOT MANY TRUSTING PEOPLE LEFT.. YOU ARE LIKE A BREATH OF FRESH AIR!!! THANK YOU FOR BRIGHTENING MY DAY... Michael Overland
Dave, I got the frames and they are great. I appreciate the quick service, the right price and the quality of your product. It's always good doing business with a vet. Yours, Joe Wagner, Roseville, MN.
For more Compliments CLICK HERE or go to the Compliments Tab.
---
Here's the payment 'Rules of Engagement' (ROE): You order your frames first, then pay later via one of the payment methods described below.
No Faith: Wait until you have the frames on the car and you hear your first, "Hey man, great license plate frame!" then mail your payment in.
Ye of Little Faith: Wait until you open your package and you think, "These look Outstanding!" then mail your payment in.
Ye of Great Faith: Mail your check now, cause you believe that honesty is still alive in America!
---
Some people say, "I can't believe you mail frames out before receiving payment
!" I say to them, "You do not understand Veterans..." The next sentence always seems to clear things up!
A veteran is someone who, at one point in their life, wrote a blank check payable to "The United States of America", for an amount of "up to and including my life."
To learn about the Owners of USAirCombat.com CLICK HERE!
---
Contact Information
Postal address

Dave Heffernan, O'Heffernan Worldwide, L.L.C., 8258 Sandberry Blvd, Orlando, FL 32819

Electronic mail

General Information: heffpilot@usaircombat.com
Customer Support: heffpilot@usaircombat.com
Webmaster: heffpilot@usaircombat.com
Hits Since Oct. 5, 2008: